outcontent.top3.banner.html.twig bottom
Copa Libertadores Betting Tips from our Experts
HOW TO BET ON THE COPA LIBERTADORES
The Copa Libertadores is back again in 2016! The top clubs in South America and Central America strive to be the best team in the biggest club tournament in South America. River Plate are out to defend the title they won last July and many teams are out to take that title off them.
KEY FACTORS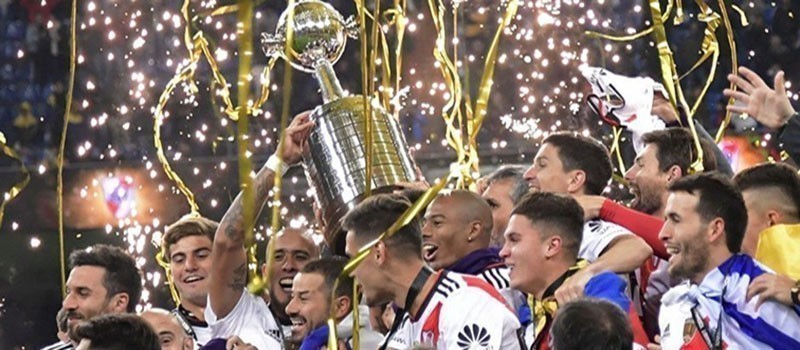 History: The current champions, River Plate, have a strong history with the famous trophy like many other clubs. Boca Juniors, San Lorenzo, Corinthians and Penarol are among the best known club teams from across the Atlantic. They aim to contest the final in the summer, then they will test themselves against Europe's elite when the club championships take place at the end of the year.
Calendar: Unlike European competitions and leagues, the Libertadores Cup does not start till the end of May. Not all leagues run at the same time: Argentina, Brazil, Paraguay or Peru have different schedules for their leagues. It is interesting to analyse each team's schedule when betting, as some teams will be on a break and others will be in the middle of a league season.
Veteran players: Many South American players who have applied their trade in Europe often return to their home countries to finish off their football careers. Carlos Tevez with Boca Juniors, Diego Forlan with Penarol and Ze Roberto with Palmeiras are some examples. Despite the age of these players, experience and quality can be key in moments of high importance.
Young talent: Many current stars of the European leagues and the Champions League, shot to fame for the first time in the Copa Libertadores. Sergio Aguero, Angel Di Maria and Neymar all shone at this tournament before making the leap to Europe. There will be big interest in some of the young talented South Americans, as these players might also be bound be glory.
Rivalries: If anything highlights football in central and southern America, it is the great rivalries between countries, the most prominent one being between Brazil and Argentina. Up to 5 Brazilian teams and a total of 6 Argentines participate in this tournament, which ensures very tense matches. Also remember the rivalry between Uruguay and Paraguay. One of the worlds most anticapted rivalries is the meeting of Argetine sides River Plate and Boca Juniors. This contest can often boil over and end in a brawl between both sets of players and management.