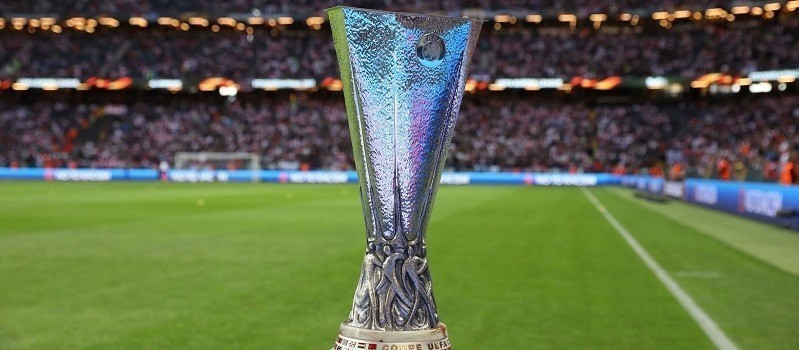 The Europa League is the secondary tournament to the prestigious Champions League. Formerly known as the Fairs Cup and UEFA Cup, teams from all over Europe will be competing in both group and knock-out stages. There are 12 groups and then eight teams from the Champions League (those finishing third in their groups) join to create a knock-out stage with 32 teams battling it out to lift the trophy.
It may be seen as a lesser tournament and the top teams do tend to play weakened sides. However, the importance of this competition cannot be denied. It's amazing how club managers show added interest in the latter stages. Why? Well, the winners of this competition gain a place in next season's Champions League and that could be worth millions of pounds to their club.
Teams qualify for the Europa League in two ways. Firstly, they can qualify via their league position the previous season. They could finish as low as seventh in the table and find themselves in the Europa League. The other route into the Europa League is to win your domestic cup, that used to take you into the European Cup Winners Cup in the past.
There have been some big winners of the Europa League in recent years.  Last season saw an all English Premier League final as Chelsea defeated Arsenal. It was a tough night for the losing finalists as they needed to win the trophy to qualify for the Champions League. Before that, the Europa League had been won by Sevilla, Manchester United and Atletico Madrid. The latter won the trophy after being transferred from the Champions League. Sevilla may not have been winners of La Liga or made much impact in the Champions League but they won the Europa League three seasons in a row from 2014-16. Adding on UEFA Cup wins and they have a record five wins.  
Bet on the Europa League with Bet365!
Knockout Stages
The Europa League had reached the last sixteen stage when the current health crisis caused the competition to be suspended. Of the eight ties, six had seen their first legs played and two (Inter v Getafe and Sevilla v Roma) had yet to begin. The Europa League will resume in August with the six second leg games being played and the two other ties fought out in one-off matches. Those games will take place in Germany, where the rest of the competition will be played. The final will take place on August 21.
Last Sixteen
August 5 - Copenhagen v Istanbul Basaksehir - The tie is level at 1-1.
August 5 - Manchester United v LASK Linsk - This should be a formality for United who won the first leg 5-0.
August 5 - Shakhtar Donetsk v Wolfsburg - The home side lead 2-1 from the first leg.
August 5 - Inter Milan v Getafe - one off match as the first leg wasn't played on health grounds.
August 6 - Wolverhampton Wanderers v Olympiakos - The first leg was drawn 1-1.
August 6 - Bayer Leverkusen v Glasgow Rangers - The German side are 3-1 up after the first leg.
August 6 - Sevilla v Roma - This is also going to be a one-off game in Germany.
August 6 - Basel v Eintracht Frankfurt - The home side have a 3-0 lead from the first leg.
Quarter Final Draw
Shakhtar Donetsk or Wolfsburg v Basel or Eintracht Frankfurt
Manchester United or LASK v Copenhagen or Istanbul Basaksehir
Inter Milan or Getafe v Bayer Leverkusen or Glasgow Rangers 
Wolverhampton Wanderers or Olympiakos v Sevilla or Roma
Ties to be played in Germany on August 10 and 11.
Semi-Final Draw
Wolverhampton Wanderers/Olympiakos or Sevilla or Roma v Manchester United/LASK or Copenhagen/Istanbul Basaksehir
Inter Milan/Getafe or Bayer Leverkusen/Rangers  v Shakhtar Donetsk/Wolfsburg or Basel/Eintracht Frankfurt
Ties to be played in Germany on August 16 and 17.
The Final will be played on August 21 in Cologne.
Bet on the Europa League with William Hill
2019/20 Europa League Last 32 Results
The knock-out stages took place in the final two weeks of February. Below are the aggregate scores.
Wolverhampton Wanderers beat Espanyol 6-3
Istanbul Basaksehir beat Sporting Lisbon 5-4
Getafe beat Ajax 3-2
Bayer Leverkusen beat Porto 5-2
Copenhagen defeated Celtic 4-2
Basel beat APOEL 4-0
Sevilla beat CFR Cluj on away goals
Olympiacos beat Arsenal on away goals
LASK defeated AZ 3-1
Manchester United had a 6-1 aggregate win over Club Brugge.
Inter Milan beat Ludogorets Razgrad 4-1
Eintracht Frankfurt beat Red Bull Salzburg 6-3
Shakhtar Donetsk defeated Benfica 5-4
Wolfsburg beat Malmo FF 5-1
Roma defeated Gent 2-1
Rangers beat Braga 4-2
Make your Europa League selections at Bet365
2019/20 Europa League Groups - Final Tables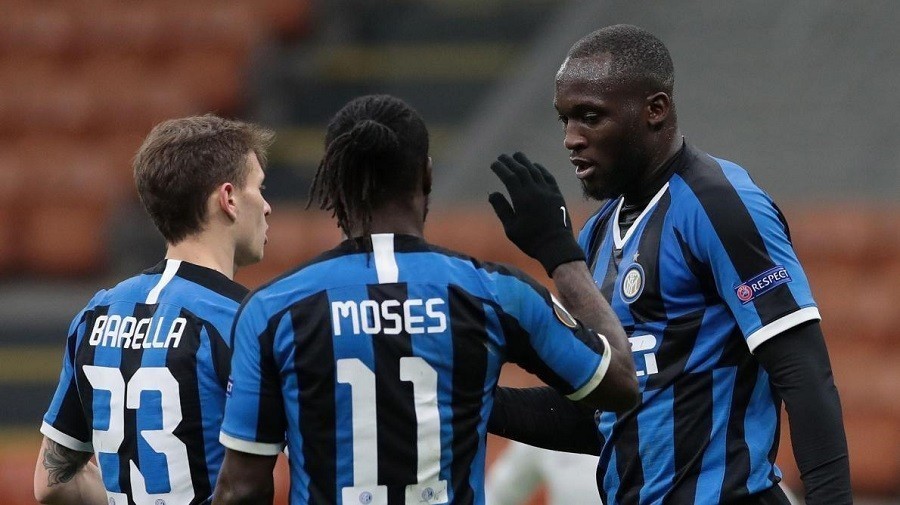 Group A: Sevilla 15 APOEL 7 Qarabag 4 F91 Dudelange 3
Group B: Copenhagen 9 Malmo 8 Dynamo Kiev 6 Lugano 2
Group C: Basel 10, Getafe 9 Krasnodar 9 Trabzonspor 1
Group D: Sporting Lisbon 12 LASK 10 PSV 7 Rosenborg 0
Group E: Celtic 13 CFR Cluj 9 Lazio 6 Rennes 1
Group F: Arsenal 10 Eintracht Frankfurt 9 Standard Liege 7 Vitoria de Guimaraes 2
Group G: Rangers 8 Porto 7 Young Boys 7 Feyenoord 5
Group H: Espanyol 11Ludogorets Razgrad 7 Ferencvaros 6 CSKA Moscow 2
Group I: Gent 9 Wolsfburg 8 Saint-Etienne 4 Oleksandriya 3
Group J: Borussia Monchengladbach 8 Roma 8 Istanbul Basaksehir 7 Wolfsberger 4
Group K: Braga 11 Wolves 19 Slovan Bratislava 4 Besiktas 3
Group L: ,Manchester United 10 AZ Alkmaar 9 Partizan 5 FC Astana 3
The top two in each of the groups qualified for the last 32 and have been joined by the eight sides that finished third in their Champions League group - Inter Milan, Ajax, Club Brugge, Olympiacos, Shakhtar Donetsk, Bayer Leverkusen, Red Bull Salzburg and Benfica.
See all Europa League group odds at William Hill
EUROPA LEAGUE: OUR FREE FORECAST FOR THE 2019-2020 SEASON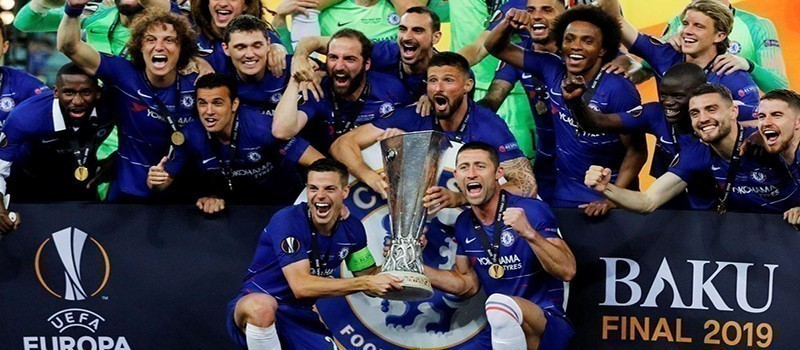 This isn't the easiest of competitions to predict. There are several factors that have to be taken into consideration. There's the fact that teams tend to play weakened sides in the Europa League. This is definitely the case in the group stages. Choosing to bet clubs that have strong squads and a light injury list is a good suggestion. Always keep an eye out for the team news before you place a bet on the Europa League. That's especially the case in  second leg ties in the knock-out rounds after big first leg victories.
When it comes to deciding who will lift the trophy, you have to remember this is a slightly different competition to others you might bet on. Not all the teams who will take part in the knock-out stages are even in the Europa League yet. The eight teams who finish third in their Champions League group will be transferred to the Europa League. That could mean some big teams entering and two seasons ago, Atletico Madrid did just that and went on to win the Europa League.
Ensure that you read the expert views of our tipsters. They will help you make your decison with their excellent and well-researched opinions on the upcoming games. With the new format for the competition, there could well be a few surprises in the one-off matches. Manchester United are in a good position due to their strong finish in the Premier League. There's no pressure on them to win the Europa League after already clinching their place in next season's Champions League. With a 5-0 lead from the first leg against LASK, they can play a weakened line-up for the second leg resting their top players for the quarter finals onwards. 
Check out the latest odds the 2019/20 Europa League at Bet365
Which team will win the 2019/20 Europa League?